Our Scooters and Price:
| | | | |
| --- | --- | --- | --- |
| Model | 1 day | More than 7 days | 1 month |
| Honda Scoopy 110 | 170 Bath | 150 Bath | 2800 Bath |
| Honda Click 125i | 200 Bath | 180 Bath | 2990 Bath |
| PCX 150cc | 350 Bath | 290 Bath | 5900 Bath |
| Nmax 155cc | 350 Bath | 290 Bath | 5900 Bath |
| Forza 300cc | 490 Bath | 450 Bath | 9900 Bath |
This agile and elegant motorbike is of medium size. Its design is very popular on the road because it gives a moderate feeling, so it suits everyone.
This sporty and big motorbike is so luxurious thanks to its design, which can make you feel important and distinguished, and it really attracts other people's eyes when you're riding on the road.
A small scooter with a homely design, this is for a rider who really wants a graceful bike. The Scoopyi has its unique style that makes it so popular on the road; you'll see that so many people, from teenagers to grandparents, use the cool Scoopyi scooters. It suits everyone and every single purpose, except speedy riders.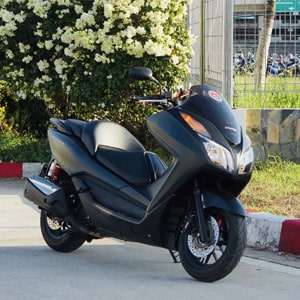 The Forza 300cc, a premium big motorbike, is dignified and fashionable, attracting your eyes from the first sight.
The NMax is a memorable motorbike with a special design. If this Nmax was a human, I would say that he is friendly. It's impressive and attractive from the first sight.
The Yamaha Aerox is actually like the Honda PCX or Yamaha NMAX but it is really for the riders who love to speed up with its 155cc engine, The top speed is 120 km/h.
Honda Zoomer-X is the small, unique A.T. scooter. It's durable because of the engine which is a fully automatic 110cc air-cooled, fuel-injected SOHC unit. The CVT can make life more convenient when you're riding in city.
Contact us…
Mobile and Whatsapp:
Or fill the form: