Are you looking for a motorbike or scooter to experience a fantastic drive around Phuket island?
Welcome to Diamond Phuket Airport Scooter Rental.
We offer to hire and rent you many scooters to hire for a reasonable price.
I am Book.
4855+8M4 T.Maikhao 28/9 Moo 6 Tambon Mai Khao, Thalang District, Phuket 83110
We are open everyday from 7:00 to 22:00.
Call us on mobile and WhatsApp:
+66945829166
Line ID : chotirott
WeChat ID : chotirottt
Fill the form to send us a message. We will reply you shortly

Phuket Airport Motorbike & Scooter Rental Service: Basic Info
Many tourists enjoy hanging around the island by themselves because it is more convenient and easier than taking public transportation or a taxi.
Besides, you need to know the time schedule or the route well to make sure that you are not going to get lost in the city. But what if you don't want to waste your time waiting for a bus to come around and you want to freely go anywhere on your own?
As a matter of fact, riding in this province might be dangerous, so wearing a helmet is strongly recommended and we will provide one for you. You would probably fined by traffic police or have an accident if you decided not to wear one. Safety first, right?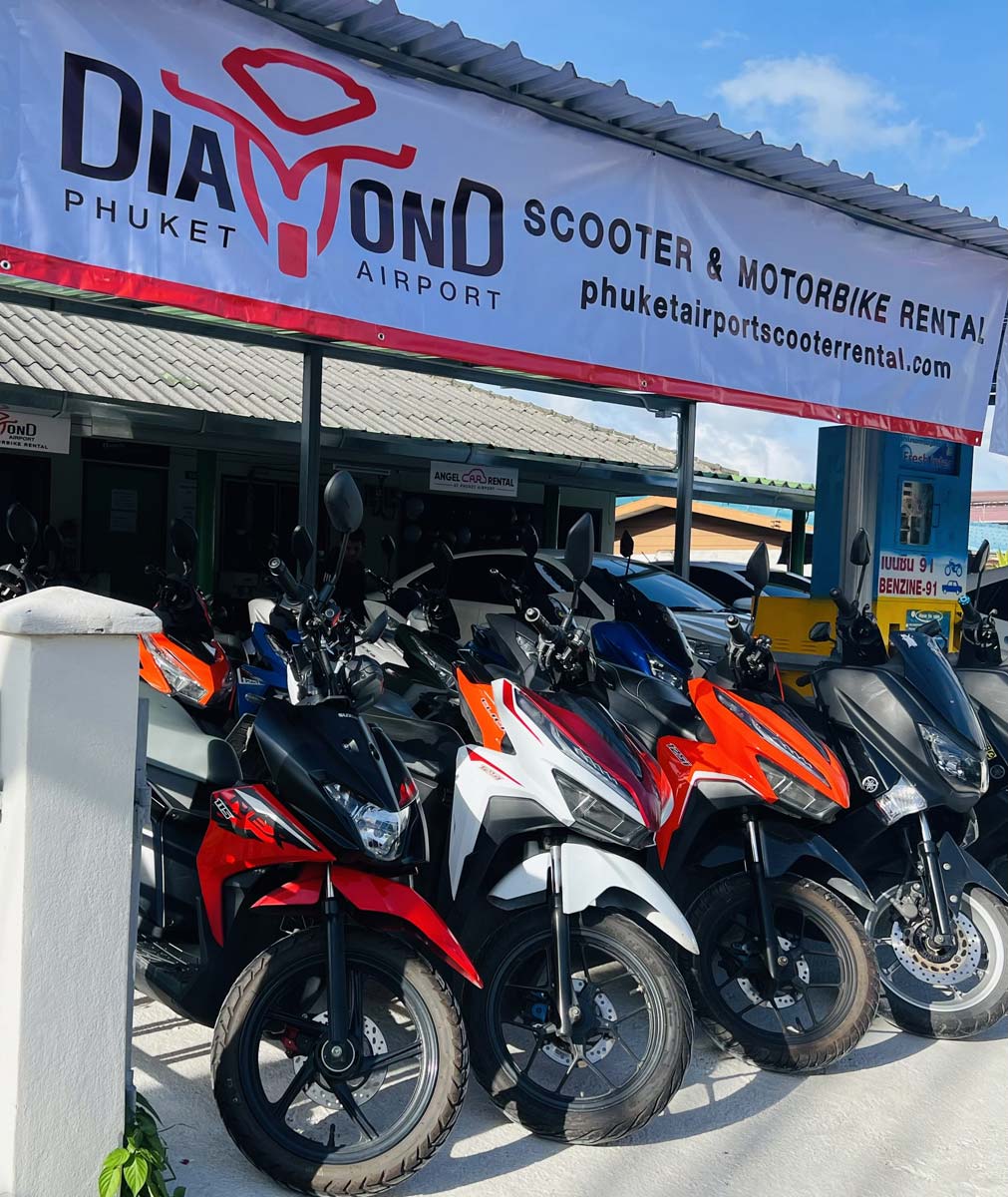 Scooter & Motorbike Rental at Phuket Airport Service: Why To Hire a Bike From Us
However, experiencing a ride in Phuket is fun and fast.
So Phuket Airport Scooter Rental is the best choice when considering location, and one of the best benefits is that when you return the bike, we'll take you to the airport.
We can be the first stop for any tourists who come here for the first time or who have just arrived at the airport and have no idea where to rent and hire a bike. That's because we are just opposite the airport, and there is a hotel near us also.
See how convenient it is?
Hire a Bike and Rent Scooter and Motorbike: What You Need in Phuket
All you need when you want to get a bike is a copy of your passport, a driving license, and a credit card.
You have to pay for gasoline of your bike on your own. Most motorbikes use 91 (octane indication), which costs 30 baht per liter from gas stations.
Be aware that bottled fuel that sells along the street or anyplace else is more expensive than at the station and it's probably not a good idea to fill the tank with it. So we suggest that you buy it in emergency cases only.
You will be expected to return the bike at Phuket Airport Scooter Rental with as much or more petrol than you hired it with. If you don't, you might lose some of your deposit.
Feel free to ask anything about our bikes or give us some feedback so that we can improve our services.
We try our best to satisfy every customer with care.
We will provide you as much information as you want about the bike rental and places to visit in Phuket, and how to stay safe during your visit.
At
Phuket airport scooter rental
we have many different bike, scooters and motorbikes to chose from. We have another shop in
Rawai Nai Harn beach
.
Small Scooters and Small Motorbikes Hire Service:
Big Scooters for Rent Service:
Motorbikes for Rent:
Here the table of prices.
Just contact us…
Mobile and Whatsapp:
Or fill the form:
Gasoline 91 and 95 in Thailand is around 30 baht per liter. It costs you about 120 baht each time you fill up.
Scooters and motorbikes are rapid and flexible. Traffic in Phuket is quite heavy when it comes to worktime.
A bike is a better option for those who don't want to sit in a car and wait for hours for traffic to move.
A bike is usually faster and moves more freely out there with caution.
Renting motorbikes for travelling in Phuket is very popular because it is so much more convenient than using public transport.
When it comes to choosing a motorbike to rent and hire, you must consider many things like price, spec, colors, and other users' reviews to get the one you really want.
Renting a small motorbike is basically a little cheaper than renting a big one.
But if you come with a larger friend or if you like to speed up faster than other motorbikers on the road, the big one might suit you perfectly.
And the underseat storage of the small motorbike can indeed be smaller than the storage on a big bike.
Actually, all types of motorbikes are designed uniquely. For example, the Zoomer-X and Scoopy are the same in some specs such as engine type and displacemen
t
, but totally different in design.
Our company not only provides motorbikes and scooters but also cars, taxis and tours, so don't worry if you come with friends. We design all the services our best for you because we know what you desire. Let us provide it for you!
Finally, we hope you have a very nice time here with our motorbikes or cars.
Traveling with rental motorbikes in Phuket gives you the freedom to go everywhere you want. The following routes are the best ways to get to the most attractive places in Phuket.